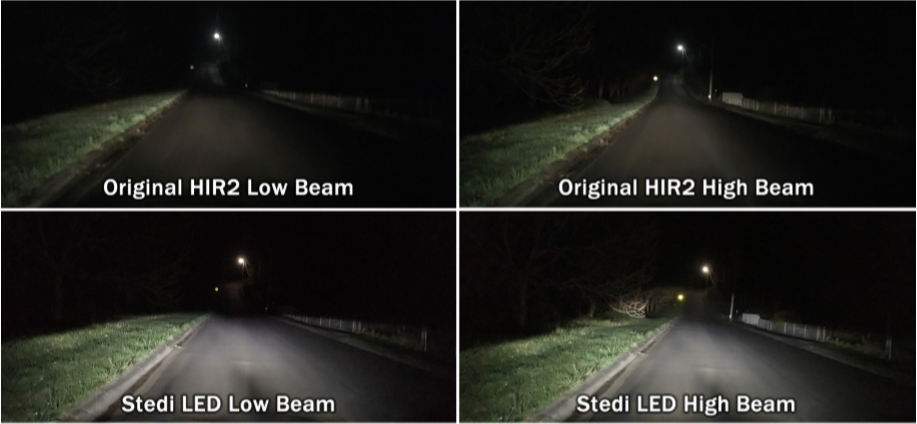 LEFT-HAND HEADLIGHT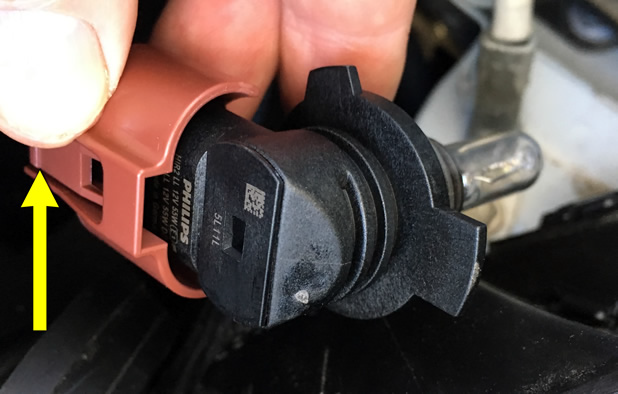 1. Remove the headlight housing dust cover and then remove the HIR2 Halogen bulb by twisting it a quarter turn anti-clockwise, the Halogen bulb is released by pressing the catch. (Do not touch the glass with your fingers or it could fail if it is reused)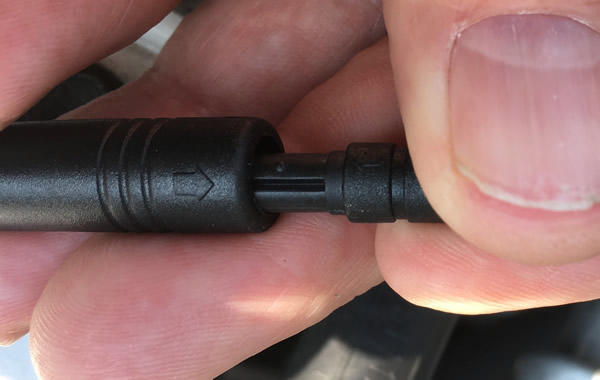 2. Connect the LED headlight to the LED Driver and then the LED Driver to the headlight socket. Align the groove to the arrow as shown in the image.

3. Carefully insert the LED Driver into the headlight housing so that it slides down to the side.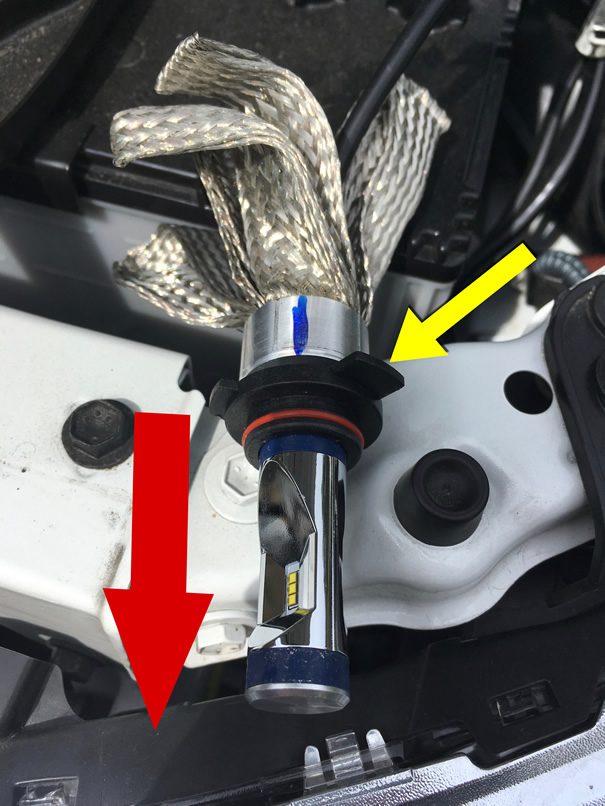 4. Angle the LED as shown in the image with the large tab (yellow arrow) about the 2.30 pm clock position as you stand in front of the headlight.

5. Maintain the LED orientation and move the LED assembly into the housing and carefully insert it into the housing collar (red arrow). When you feel that the LED is inserted correctly turn the LED one quarter turn clockwise. The LED should turn relatively smoothly and lock into place.

6. Warning. The LED can be inserted incorrectly so that not all three tabs are in place, the LED will turn stiffly and appear to be locked in but the projected beam will have a dark spot. Do not force the LED at any time. If you are doubtful remove the LED and try again and ensure that the LED is perpendicular to the housing collar.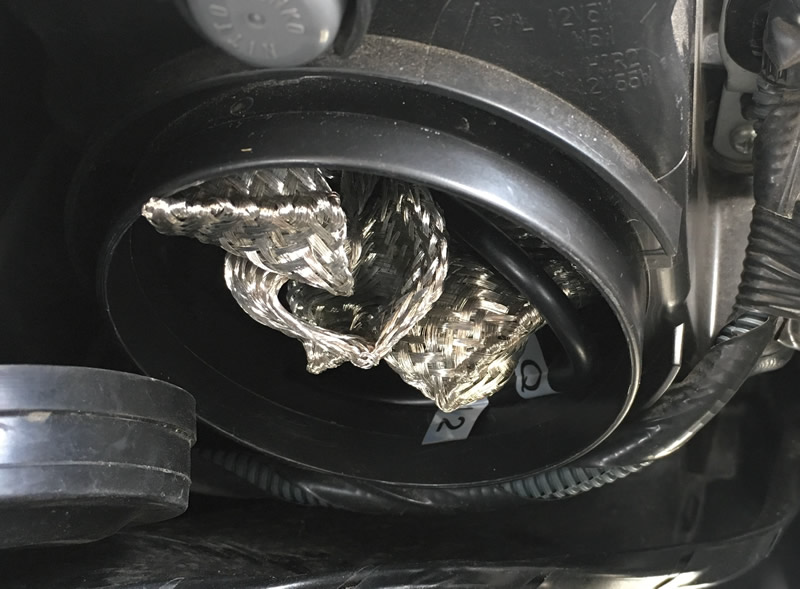 7. Insert all the remaining wiring into the headlight housing. Spread the copper braiding and widen the loops and then place them inside the housing as well.

8. Replace the headlight housing dust cover
RIGHT-HAND HEADLIGHT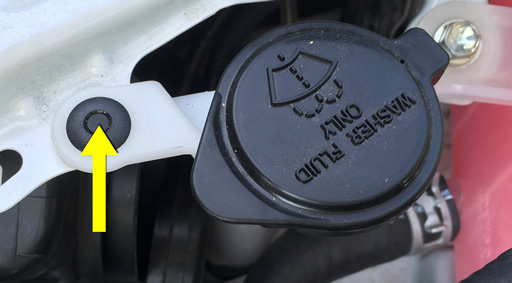 9. The windscreen washer filler tube is held in place by a plastic rivet. Push the centre pin of the plastic rivet down which will release the rivet and allow it to be removed. Store the rivet safely so it can be reused.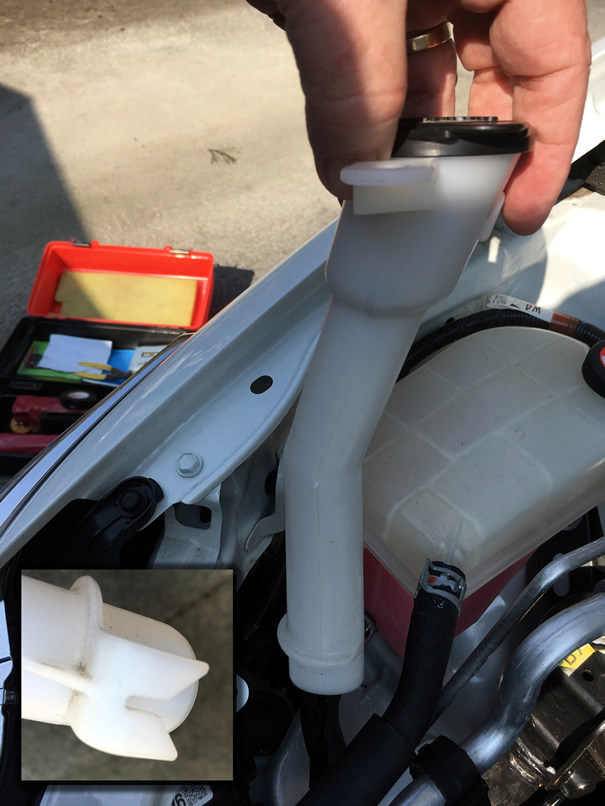 10. Gently pull the washer filler tube straight up and place it to the side allowing access to the rear of the headlight housing.

11. Repeat steps 1 to 8 to replace the Halogen bulb with the LED

12. Push the washer filler tube back into the reservoir tank ensuring that the guide on the bottom is in the correct position and that the holes for the plastic rivet align.

13. Push the centre pin of the plastic rivet back into the rivet so that it is a few millimetres above the top of the rivet.

14. Push the plastic rivet into the hole on the washer filler tube and press the centre pin down flat
to the top of the rivet.
HEADLIGHT BEAM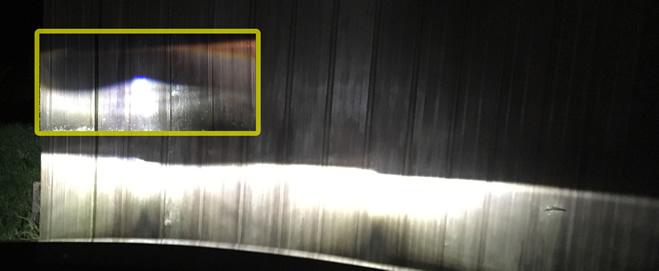 The two headlights beams should have a light dispersal very similar to the original Halogens. The image shows my headlights in low beam. If the LED is not seated correctly there will be a dark spot in the beam as shown in the yellow rectangle. Remove the LED and reinsert it correctly.