IMPORTANT NOTES:
- Due to the high current draw of this ST3303 Pro light bar, STEDI insists you MUST use the included wiring harness. The included wiring harness is sized specifically for the extremely high-power consumption of this light bar, we DO NOT recommend the use of any other harness.
- Strong earth and power connection are necessary for maximum performance. If poor earth or power connection is encountered, symptoms such as low brightness, flickering, or fuse failure may be encountered.
- Always use lubrication on all stainless hardware to prevent stainless locking upon itself. This phenomenon is known as "galling". WD40, Vaseline, or even saliva will save any possibility of a stainless bolt seizing.
INSTALLATION
For wiring instructions, Click Here.
STEDI Light bars will come with either side brackets, sliding brackets, or both. Below is a run-through on both mounting styles to help you through installation.
SIDE BRACKETS: Best described using the diagram below, the side brackets should be assembled in order of components: Brackets Arm > Washer > Spring Washer > Bolt.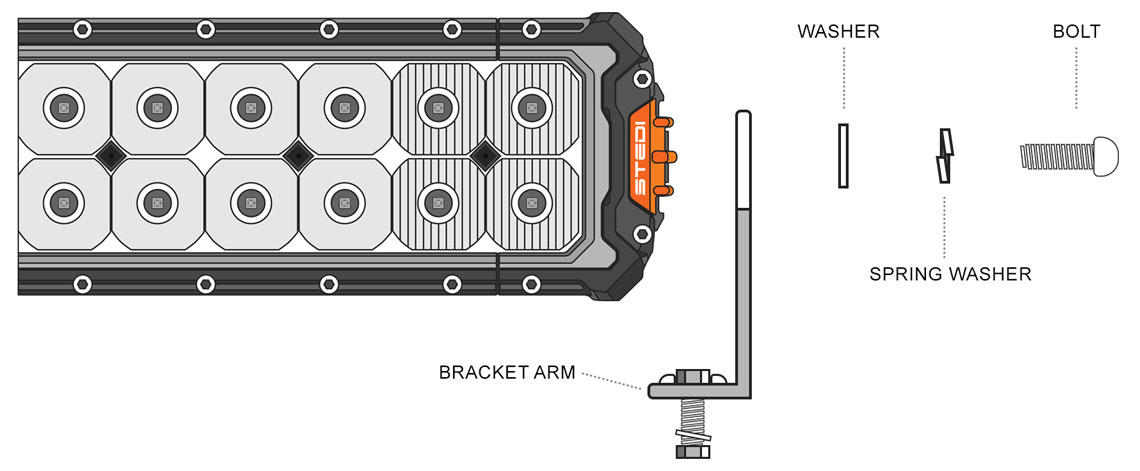 SLIDING BRACKETS: The lower sliding brackets are easiest assembled prior to installation to the light. Using the wider opening in the channel of the light bar, insert the bracket and slide to the desired position for mounting. Once the bracket is in position, tighten down the 2 cap screws to the locking plate firmly to secure the position in the channel. Offer to the lightbar using
INSTALLING ONTO TUBE CLAMPS
For installation to bullbars and such, using a single bolt through each bracket is acceptable.
ACCESSORIES
COLOUR SIDE CAPS: Commission your own striking colour combination with our customizable side caps. Grey and STEDI orange caps are included, and when you get sick of those, green, blue, and red are available to purchase separately. Shop Now.
The end caps are simply held in with 2 bolts, loosen off and remove both bolts for the cap to then be able to slide off. For installation of it is the reverse of removing keeping in mind these do not need to be overtightened, only enough tension to secure the cap in position.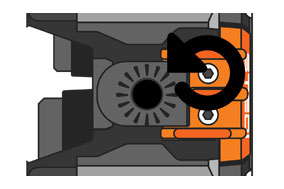 BLACKOUT COVERS: With most states in Australia limiting any auxiliary lights to a maximum of 4 forward-facing lights, exceeding this number can render the car to be uncompliant with ADR. When you have exceeded this maximum, covering any exceeding lights with blackout covers whilst driving on public roads will label them as not in use, therefore they are not considered in the overall count. SHOP NOW
ST3303 PRO OPTIONAL ANTI-THEFT KIT
If you looking for an option to minimize the prospect of your ST3303 PRO getting stolen, we offer both a Side Bracket Anti-Theft Kit and Lower Bracket Anti-Theft Kit
The Side Bracket anti-theft kit consists of the following fasteners;
1 x Security Key
2 x M10 20mm Bolts
2 x M10 Nuts
INSTALLATION:

The Lower Bracket anti-theft kit consists of the following fasteners;
1 x Security Key
2 x M8 Nuts