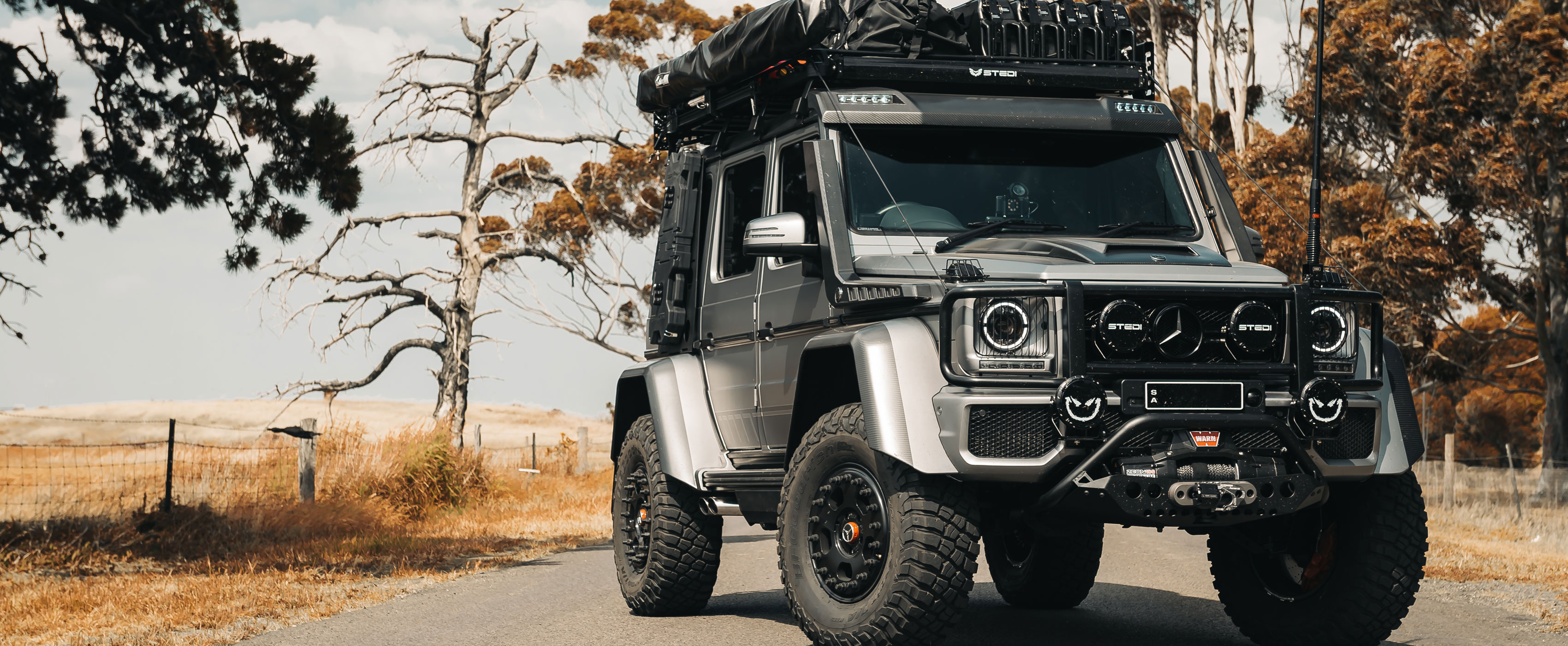 Ahh! The iconic German 4x4! Originating back in 1979, and still made today, Mercedes have definitely made good use of all the original moulds... There have been many transitions through the years, from basic 4 cylinder diesel with an Army spec agricultural interior, right out to what you see here today.
Sebastian's Wagen is a far departure from what you would call "agricultural". At first glance, you may look at it and think that it was built for the Mars Rover project. If internal combustion could work on Mars, quite honestly, it would not be far off from being suitable... We will get into the rest of the exterior in a moment, however, the interior is definitely worth noting before moving on.
Grabbing the door handle and watching the electric step fold-down is the first hint of what is to come. Stepping up onto the conveniently placed staircase provokes you forward, you end up copping a whiff of the luxury cowhide as you enter the cockpit. As your derriere comfortably sinks into one of the most comfortable seats you have ever felt, you suddenly feel as though you are sitting in a Mercedes Maybach that is lifted to the height of a bus. Miles upon miles can definitely be soaked up in this thing.
With an interior this good, there is no chance a dirty old Diesel is fitted. Powering the Apocolypse spec G Wagen is a twin-turbo 5.4ltr Petrol V8 straight out of the AMG series of sedans. What makes this a truly unique vehicle is the fact that it uses a hefty set of Portal axles and a set of 37 inch BF Goodrich mud-terrain tyres. This thing is now able to comfortably drive over any large boulder or small hairdressers' car without so much as scuffing the diff pumpkins.
Now to the Juicy stuff that makes it truly legendary... The Stedi gear ;)

Starting with the front end, there are 4 of our STEDI Type X 7 Inch Spot Lights fitted to the bull bar. The upper two are running the included STEDI branded blackout covers, whilst the lower pair are running the iconic Smiley Covers. Clearly, Sebastian the owner is quite particular about the aesthetics of his vehicle and has blacked out the brackets to tie in with the tomb raider feel of the front end. For those wondering about the 7 Inch headlights, unfortunately, they are a Mercedes factory headlight.

If that wasn't enough, moving skyward, Seb has neatly fitted a 52 Inch ST4K LED Light Bar to really turn the road in front, into rolling daytime. To maintain similarities with the Type X on the front and some stealth factor, Seb is using our ST4K Blackout covers.

Don't worry, the rear end definitely has not been left out of the equation. Neatly fitted to the back of the Frontrunner platform is a pair of our ST4K 12 inch dual row lightbars, again, fitted with our Blackout Covers.
Stedi video https://youtu.be/qFD_4FbNXbQ
For an entire build segment, feel free to check out Sebastian's run through with our mate Sam Eyles. https://youtu.be/TCswgquaAbQ