ANTI-Seize:
During installation, we strongly advise that anti-seize paste is used for all bolt/nut hardware. This prevents galling and cold welding.
Wiring Instructions:
1. RELAY INFORMATION.
Locate a suitable mounting for the relay which is in close proximity to your battery to ensure the positive and negative cables will reach the + & - terminals of your battery. Do not connect to these terminals just yet. Check that the switch and other cables can reach the desired locations ensuring all cables are routed away from moisture and heat.
2. DISCONNECT POWER.
It's always safest to disconnect running power by removing the negative (-) terminal from the battery for the easiest installation.
3. SWITCH LOCATION.
Run the switch through to the inside of the vehicle's cabin via a pre-existing rubber grommet in the firewall.
4. DRIVING LIGHT CONNECTION.
Find a suitable pathway from the relay to your driving lights which is clear of heat and moving objects and connect using the pre-fitted waterproof connector.
5. PIGGYBACK ADAPTOR.
Remove your high beam plug from the rear of the headlight and connect it to the piggy back adaptor supplied. The other end of the piggy back adaptor will then connect to the back of your high beam globe. The last end of the adaptor (White T-Connector) will connect to the STEDI Harness.
STANDARD PIGGYBACK ADAPTOR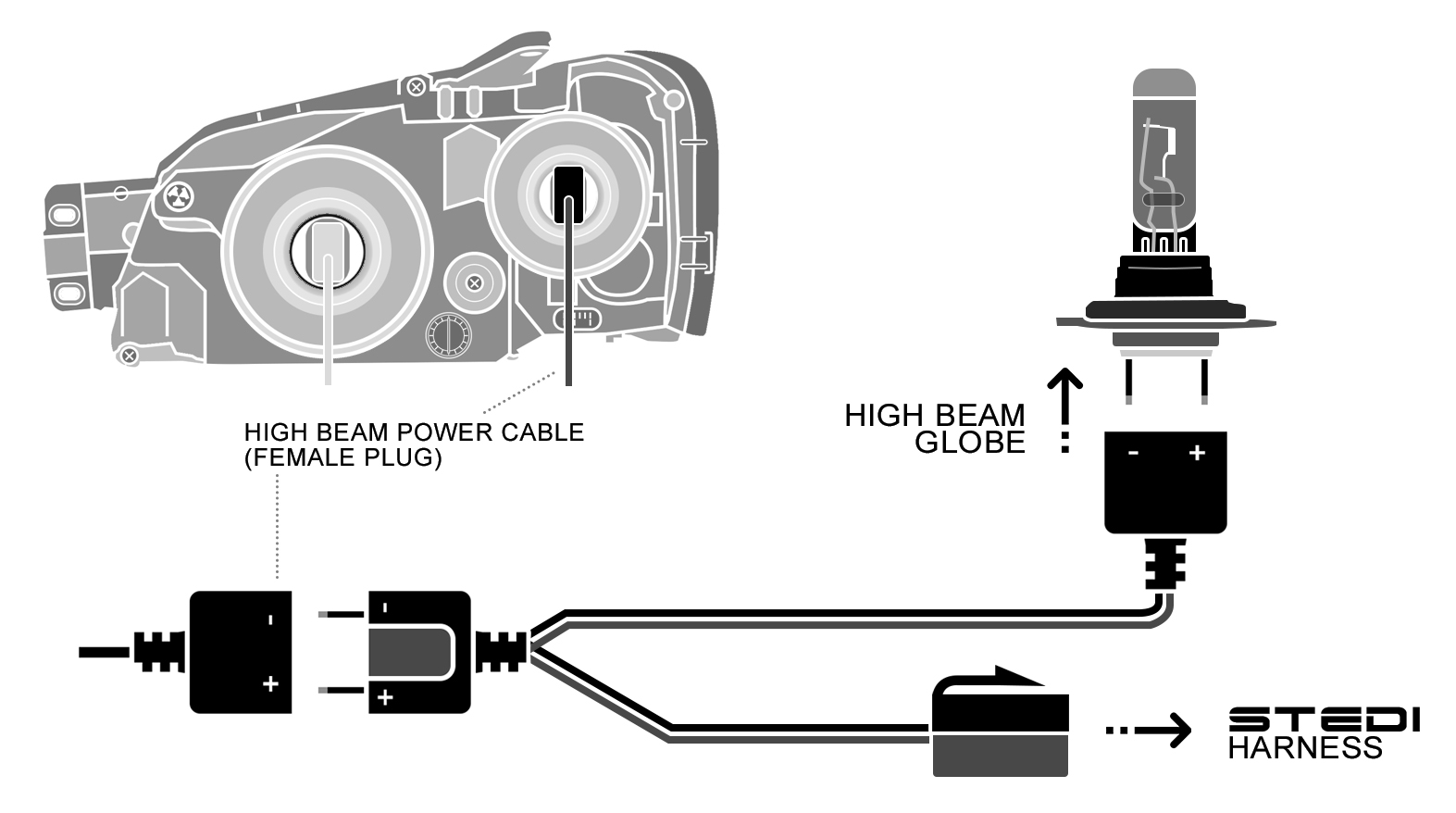 Bracket Installation:
The brackets fitted to the ST3303 LED Light Bars are a heavy-duty sliding bracket that is pre-fitted and is not removable. To assemble, attach the foot piece of the bracket to the sliding component and secure with the supplied bolts, these do not need to be 100% tight as you will need some movement in the bracket to adjust light angle.
Refer to the Tube Clamp Installation section below for reference using a tube clamp or a single bolt in each bracket to secure.
Tube Clamp Installation:
For installation to bullbars and such, using a single bolt through each bracket is acceptable. The below photo can be used as an example of how it all fits up.

Anti Theft Kit:
For installation of Anti-Theft kits for the ST3303 you will need to replace one nut on each bracket that is used for mounting. The idea is to prevent removal of the light bar by having a secure point that can't be removed with everyday tools. Unfortunately, there are no current options for the bolts that go through the side but once the light bar is fitted, you will notice access to the bolt head is very minimal.
We have set up a pre-configured kit with all the equipment required installation.