Below we detail two methods you can use to determine which piggy back adaptor you need to suit your high beam connector type.

METHOD 1
Your vehicle owner's manual usually will list all bulb types required for your vehicle. Usually, this information can be found somewhere within the 'Maintenance" section. You will need to identify your high beam. Below is an example of what this section generally looks like: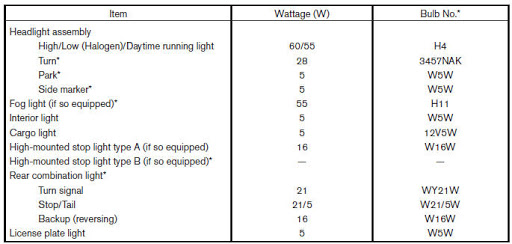 METHOD 2
All headlight bulbs have markings on them which state the socket type. Marking is either etched on the metal frame of the bulb and other times you will find the etching on the plastic socket at the rear of the bulb. Note that some vehicles will have dust caps that will need to be removed to provide access to the bulb.
NOTE: Later year models may have either HID or LED high beams from factory, if this is the case, a vehicle-specific piggy back adaptor may be required. For our current range of vehicle-specific adaptors, follow the link below:
For traditional style piggy back adaptors, follow the below link:
https://www.stedi.com.au/wiring/driving-light-wiring-kits/piggy-back-adaptors.html